POLIVIS© 4510
POLIVIS© 4510 is a VCI Volatile Corrosion Inhibitor compound in granules, the base is a Polyethylene and the active ingredient a VCI formulation without nitrites and secondary amines.
POLIVIS© 4510 is:
Suitable for extrusion and injection moulding or multi layer applications with different grades of Polyethylene polymers like LDPE, LLDPE, HDPE and Polypropylene both as a homopolymer and as a copolymer.
Protection of ferrous and non-ferrous metals.
Wide fields of application in the corrosion such as automobile ancillaries, machinery, electronics, military, steel etc…
Particularly suitable for the industrial production of protective packaging.
The active ingredient is a VCI whose vapors form a protective molecular layer on metals.
It is an alternative solution to oil, more ecological, less expensive and faster to apply and remove.
No additional surface treatment is needed and the end user can directly use the protected component without any further cleaning.
It is a Nitrite-free VCI formulation.
VCI compliant with TRGS 615 safety standards without secondary amines.
Certified by BFSV Laboratory Hamburg Germany, with Grade 3 result, good corrosion protection effect.
It is tested in various plastics applications.
Swissmedendi currently has satisfied customers in Italy, India, Israel and Taiwan with plans to expand to the Australasia region.
Volatile chemical compounds impregnated into the packaging material (plastic or paper) are released over long periods of time to form an invisible protective layer on the metal surface.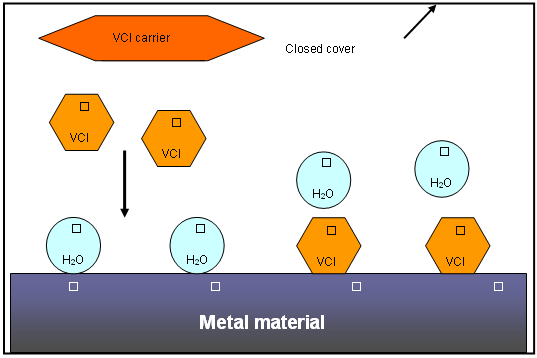 The VCI molecules within the plastics compound are deposited on the metal surfaces as a monomolecular layer inhibiting corrosion.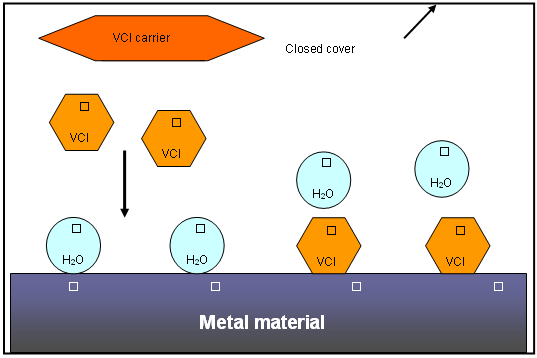 Our Location
Swiss Medendi SA
Via Lucino 28
CH-6932 Breganzona